Latest posts by David Meek
(see all)
Single-family homes in Paradise Valley are back above the $400 per square foot threshold.  The annual average sales price per square foot metric reflects sold prices, not listing prices, which run higher.
Sold prices reached $408.06/sf this month.
That's an 8.3% rate of appreciation over the same figure last year. The next Phoenix submarket down the list is Scottsdale at $265.67/square foot.
Average list price at the time of contract in Paradise Valley is currently $432.30. This means that single-family homes in the town are selling for 94.3% of the final list price.
Sold prices per square foot in Paradise Valley have not been this high since the last week in December 2008 when the market was on the way down from its dizzying pre-recession highs. Sold prices in the community have taken over 10 years to recover to the $400/square foot level.
The annual rate of sales per square foot for single-family homes in Paradise Valley is still only at 85.3% of its March 2007 peak.
There are presently 233 single-family homes for sale in Paradise Valley. Listing prices range between $649,000 and $25,000,000. About 400 single-family homes sell each year in the town.
The chart below illustrates the rapid price appreciation for Paradise Valley in 2019 relative to recent years.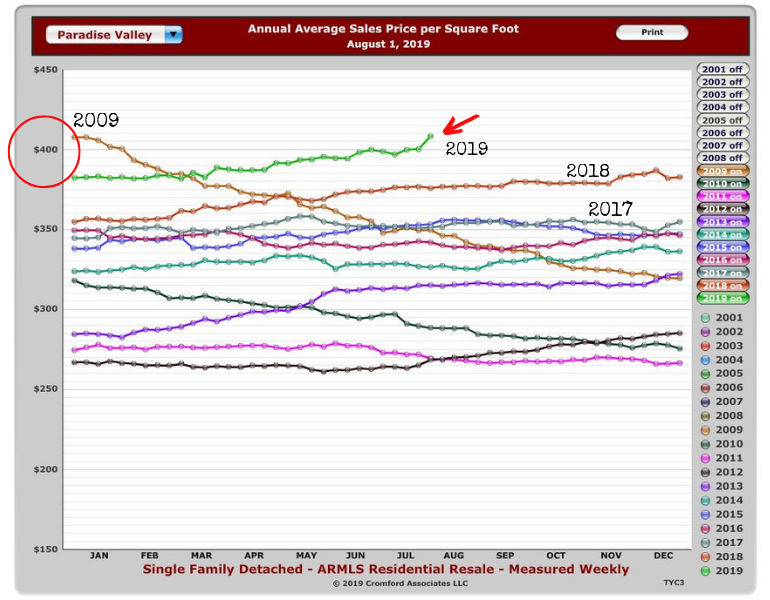 The Town of Paradise Valley is the wealthiest municipality within Arizona. According to U.S. Census estimates, the town population stood at 14,502 in July 2018. There are 5,239 households and 92.5% are owner-occupied.
The chart above is compiled by The Cromford Report. Data comes from the Arizona Regional Multiple Listing Service (ARMLS).
---
Many of my cartoons are not a belly laugh. I go for nostalgia, the lump in the throat, the tear in the eye, the tug in the heart. – Bil Keane, creator of The Family Circus syndicated cartoon series and a former resident of Paradise Valley, Arizona