Latest posts by David Meek
(see all)
---
Greater Phoenix offers hundreds of miles of hiking trails for all skill levels. There is certainly a different trail here for every day of the year. The 365 Phoenix Hikes project is my endeavor to connect our stunning geography with the great surrounding neighborhoods. Homes and for sale around the Tatum Boulevard Trailhead are featured at the bottom of this post.
 See the growing catalog of the best hikes at the 365 Phoenix Hikes page.
---
I discovered a new, easygoing hiking trail this morning in the Phoenix Mountains Preserve and it deserves some publicity. Visiting family and kids will enjoy this quick-hit, flat and easy trail. There is plenty of Sonoran Desert scenery and cacti to boot. It is within a few minutes of the PV Mall area and just across the street from the town of Paradise Valley.
I like this section of the trail for variety of reasons:
great mountain biking trail
1.4-mile short distance one-way, 2.8-miles round trip
relatively flat with only a 100-foot elevation gain
perfect for beginning hikers, kids, out-of-town visitors or seniors
great for dogs
jump on at Tatum Boulevard or 40th Street Trailhead
restrooms, water fountains and horse trailer parking at 40th Street Trailhead
no climbing or scrambling over rocks or switchbacks
no steep inclines
up-close mountain views of Two-Bit Peak
manageable, loose pebble-sized to softball-sized rocky scree
lush flora and cacti at the east end of the trail
trail meanders through several dry creekbeds
The Phoenix Parks Trail #100 begins at the intersection of Tatum Boulevard and Tomahawk Trail on the east end. The trailhead address is approximately 8700 N. Tatum Boulevard. Eight parking spaces are in a small lot here. There are no provisions for horse trailers at this end.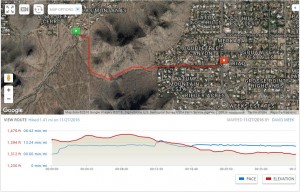 Trail #100 (also known as the Charles M. Christiansen Trail) continues westward into the Phoenix Mountains Preserve toward Piestewa Peak and higher elevations. However, I chose only the short 1.4-mile section between the 40th Street Trailhead and the Tatum Boulevard Trailhead this morning due to my time constraints.
Since it is comparatively flat, Trail #100 is not a calorie-burner or a leg-burner. It is a great trail though to allow you to showcase the mountainous Sonoran Desert to your out-of-town guests without making them climb or exert themselves.
You can start your hike at the east end at Tatum Boulevard Trailhead, but since parking is tight here (8 spaces), the sure bet is parking at the 40th Street Trailhead (62 parking spaces). The 40th Street Trailhead offers restrooms, drinking fountains, a picnic ramada, horse trailer parking and a hose connection for filling dog bowls.
I began and ended my hike at the terminus of the 40th Street Trailhead (just south of Shea Boulevard and 40th Street). If you would like to start from the Tatum entrance, here is a map to the trailhead on Tatum Boulevard:
Trail #100 intersects the 40th Street trail approximately 1/4 mile (1300 feet) south of the 40th St. trailhead.
There is a great watering hole nearby when you finish the hike. Check out O.H.S.O. Brewery for a frosty one. It is located at  10810 N. Tatum Blvd #126, Phoenix, AZ 85028. This is just a half mile north of the Tatum Boulevard Trailhead. My favorite is the Popcycle Blonde lager with a hint of raspberry and lemon flavors. 
---
If you like this area on the Tatum Boulevard corridor near Paradise Valley and the PV Mall, consider the following neighborhoods in the area around the trailhead. Call us if we may help with your home search. Newest listings are posted first.
[showcaseidx_hotsheet name="Tatum_Boulevard_Trailhead"]