Latest posts by David Meek
(see all)
---
Phoenix, Arizona offers hundreds of miles of hiking trails for all skill levels. There is certainly a different trail here for every day of the year. The 365 Phoenix Hikes project is my endeavor to connect our stunning geography with the great surrounding neighborhoods. Homes and condos for sale around North Mountain are featured at the bottom of this post.
 See the growing catalog of the best hikes at the 365 Phoenix Hikes page.
---
I would love to love the North Mountain hike, but I have to admit it is only a warmish like. Wow, is it popular though. Maybe that is why it doesn't make the top of my list. Lots of hikers at all of the peak hours of the day when you want to use the trail.
I prefer a quiet, remote trail with leisurely hikers appreciating nature. North Mountain reminds me of the gym on January 2nd when New Year's resolutions are in full swing. Lots of workout gear and singles are speed walking with headphones in. This is a social mountain trail where you meet your north Valley friends for a quick 45-minute burn after work. You might even bring along your teacup-sized pooch.
Plenty of Phoenicians appreciate this trail though so I need to keep it on my list. The North Mountain hiking trail is steep, paved, short and a real thigh-burner. It is part of the Phoenix Mountains Preserve in the north Valley.
If I am beginning to dissuade you, here are the strong reasons (truthfully) to consider this hike:
two trailheads to choose from
central location near Thunderbird Rd. and 7th St. makes it quick to access for north Valley residents
short 1.2-mile distance from parking lot to peak
8′-12′ wide paved asphalt trail
most of the trail is paved
can be ascended in under 40 minutes at a moderate pace
great evening views of the Phoenix city lights in the Valley below
plenty of parking on the interior loop parking lot
popular with dog owners
view of the Pointe Hilton Tapatio Cliffs Resort to the east
view of downtown Phoenix skyline to the south
Perhaps because of the location and because it is paved, this trail draws consistent crowds. Evenings and weekend mornings are very busy. There is room for all hikers although you might rub elbows on your way up during peak times. I like to go late mornings or weekend afternoons for low traffic.
One of the things that you will appreciate about this trail if you live within a few miles of the trailhead, is that it's a lightning-fast hike. You can leave your home, park, ascend, descend and be back home in under 90 minutes especially if you live in surrounding zip codes 85020, 85022, 85028 or 85032.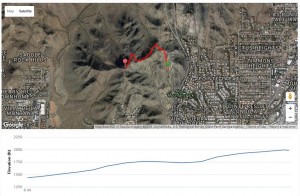 Mountain bikes are not common on this trail, likely because it is only slightly over 1 mile from the trailhead to peak.
Choose one of two trailhead starting points. Both are parking lots. The smaller lot starts you immediately on the paved trail. The other larger lot starts out on a dirt trail which connects to the paved trail within 600 feet. Both trails join here and are paved to the peak. There is no fee to park in either lot.
There is a tiny parking lot on the west side of 7th Street that holds approximately 8 vehicles. Parking here is at a premium during peak hours. It is not uncommon to see cars stopped in the slow lane on southbound 7th Street waiting to get into the full lot. Anecdotally, this smaller lot has been a target in the past for smash-and-grab thieves looking for valuables in unattended cars and a quick escape on 7th.
The larger of the two parking lots is the better choice. Some hikers will still wait for a spot at the small parking lot that fronts on 7th Street because of the perceived park-and-go convenience. The larger interior parking lot holds 100+ vehicles and features restrooms and a picnic ramada.
North Mountain has radio and mobile towers at the top. Watch for service vehicles on the paved road.
After the hike, let your thighs cool off in a booth at Scramble. It's an all-day breakfast cafe just a half mile south of the trailhead. The address is 9832 N 7th St #1, Phoenix, AZ 85020. In addition to vegan items, Scramble offers a gluten-free menu. My personal favorite is the Western omelette.
Enjoy your North Mountain hike! Let me know what you think about this trail in the comments section at the bottom of this page.
---
Below is a list of MLS properties for sale in the neighborhoods immediately to the south and east of North Mountain in Phoenix. If a home or condo in the area is in your future, we would be thrilled to help.
[showcaseidx_hotsheet name="North_Mountain_Trailhead"]