Latest posts by David Meek
(see all)
Thousands of Canadians came to Phoenix in search of second homes and vacation property after the US housing crisis hit.
Their purchasing power helped to buoy a housing market that had fallen 47.1% since its July 2006 peak and that was in desperate need of buyer demand.
By late 2010, a perfect storm of favorable currency exchange rates, falling home prices and mountains of bank foreclosures fueled a Canadian buying frenzy of Arizona homes. The number of homes in the greater Phoenix market owned by Canadians is currently estimated to be 22,000.
The Canadian dollar (CAD) briefly fell below one USD in 2007, then flirted with levels under one Canadian dollar consistently from 2010-2013.
At the peak of purchasing in April 2011, Canadians represented 5.95% of all home buyers in the market, according to Tom Ruff of The Information Market in Tempe. Now, for every Canadian who is purchasing in metro Phoenix in 2016, Ruff reports that nine are selling.
Canadians are still the largest group of foreign buyers in Arizona, but their numbers have fallen since the CAD exchange rate worsened against the USD. According to Michael Orr of The Cromford Report™, 77% of foreign residential real estate buyers in Arizona are Canadian this year, down from 93% in 2015.
Many investors from Canada are now cashing out of the Phoenix market and winning big. Exchange rates have swung the other direction, with one USD now equaling 1.30 CAD. This amplifies the repatriated Canadian profits, especially if they are invested in the depressed housing market in oil-rich western Canada provinces (see FIRPTA tax withholding requirements for foreigners).
The heat map below illustrates where Canadian homeowners have settled around metro Phoenix. The data was gleaned from Maricopa County tax records and referenced for locally owned property with Canadian return postal addresses. It was compiled by ARMLS (Arizona Regional Multiple Listing Service. Copyright 2016).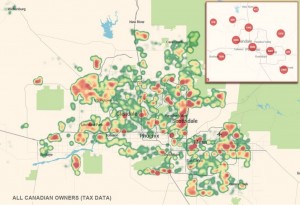 Broadly, areas of Scottsdale along the 101 corridor, Surprise, Sun City Grand and northern Mesa saw significant buying activity from Canadians.
Upon closer inspection, popular subdivisions for Canadian buyers included Anthem and Grayhawk (north valley), Las Sendas (east valley), Estrella Mountain Ranch (west valley) and Vistancia (northwest valley). These were all areas of brand new construction around the peak of the US housing bubble.
One item that was not clear from the map is where in Canada our buyers are coming from. I would love to know.
Anecdotally, a Canadian neighbor in Anthem shared that Arizona is principally popular with those from provinces in western Canada like British Columbia, Alberta, Saskatchewan and Manitoba. Rarely, he said, do Canadians from Ontario, Quebec or the Maritimes settle in Arizona. "It's too far to fly. If they are buying foreign property, they usually end up in Florida or the Caribbean."
---
Canadians know that the promise of a recession didn't happen because of anything we did here. If you look at all the causes of the recession, problems in mortgage markets, the problems in the banking sector, the problems in government finance in countries like Greece, none of those problems were in present Canada. – Stephen Harper, Canadian member of Parliament and the 22nd Prime Minister of Canada