Latest posts by David Meek
(see all)
Famed architect Frank Lloyd Wright was a venerable sixty years old when he first arrived in Phoenix in early 1928. Wright and his wife would winter here in the Valley for another three decades. His 1937 Taliesin West residence and school, built into the brow of the McDowell Mountains, is open for public tours. Today, it features central air conditioning to assuage perspiring students and pilgrims of architecture. Few homes of the era featured such luxurious climate control.
Mr. Wright didn't experience air conditioning at Taliesin West though. It was his wife, Olgivanna, who retrofitted central cooling to the property in the 1960s and 1970s after the architect's death in 1959. Today on the grounds of Taliesin West, Wright's office, architecture school, garden room, kiva, theater, cabaret and gift shop all feature modern HVAC. What would he think about that?
Designing a home in the desert
During construction of his Scottsdale property, Wright used elements of the natural desert to keep the interior climate agreeable. Many of the buildings at Taliesin West, like the kiva and cabaret, are dug deep into the desert floor to facilitate cooling. Thick concrete walls made of stone from the surrounding McDowell Mountains arrest the heat.
Until enclosed by ceiling glass between 1946 and 1951, climate control in many of the rooms was accomplished with translucent overhead canvas panels. The canvas let the breeze and diffused light in but blocked the sun's direct heat. Louvered horizontal windows still venitilate the living space below.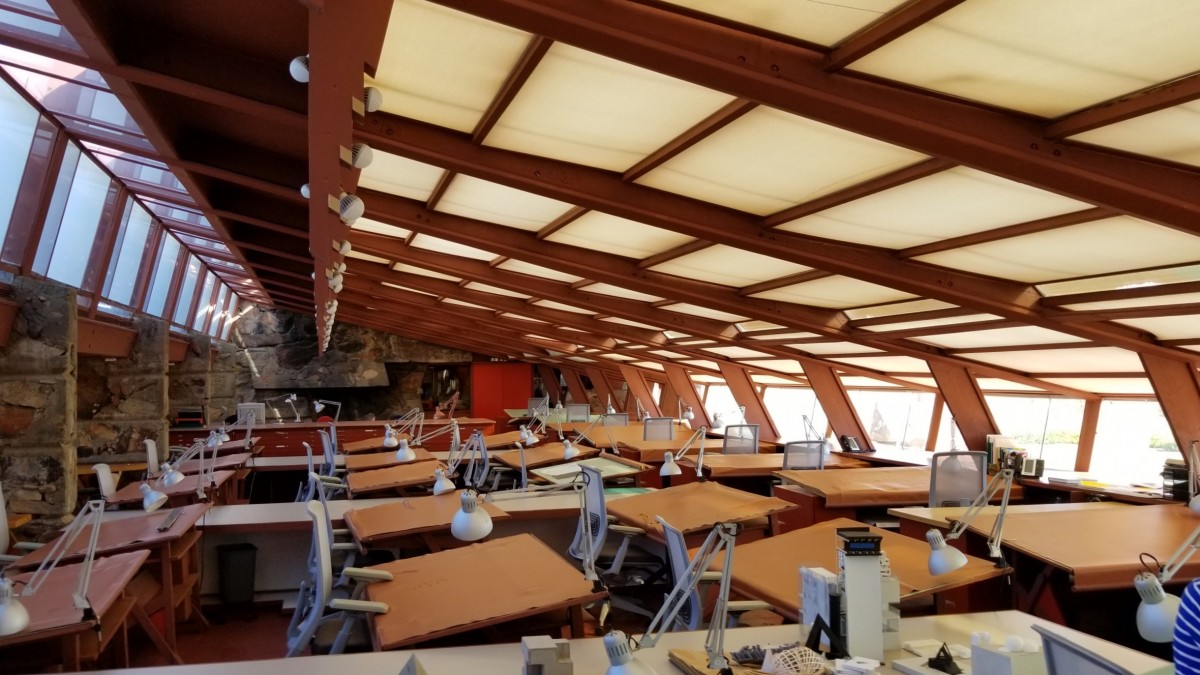 The architect's design style dissolved boundaries between the indoors and outdoors. Conversely, air conditioning creates boundaries between the two. His architectural philosophy and the technology seem to conflict.
It is important to remember though that Frank Lloyd Wright only spent winters in the Valley. Wisconsin was his summer home. In Phoenix, average monthly high temperatures for November through March rarely rise above 76-degrees. Winter nights in the Sonoran Desert dip down in the 40s. So even if affordable residential air conditioning had been readily available, Wright, wouldn't have received much benefit by using it during his seasonal visits.
Frank Lloyd Wright died just as central air-conditioning started to become mainstream for American households in the early 1960s. Arizona homeowners were no exception. In large part, it was the advent of affordable central cooling that would launch the mid-century Phoenix population into the stratosphere. Phoenix's 106,818 residents made it only the 99th largest city in the U.S. in the 1950 Census. Today (with a nod to indoor climate control), the metro area population is 4.7 million.
So where did he stand on the technology?
Early on, Wright pioneered the design of buildings that showcased new air-cooling techniques. One such project was the S.C. Johnson Wax Administration Building in Racine, Wisconsin. It was under construction concurrently with Taliesin West. When it opened in 1939, it was one of the first commercial buildings in the country to have air conditioning.
Later though, he would play down the importance of air conditioning in residential architecture. In his 1954 book, The Natural House, Wright firmly steered away from the use of air conditioning. He must have been considering peak heat during Scottsdale summers when he stated:
"To me, air conditioning is a dangerous circumstance. The extreme changes in temperature that tear down a building also tear down the human body. I can sit in my shirt sleeves at eighty degrees, or seventy-five, and be cool; then go outside to 118 degrees, take a guarded breath or two around and soon get accustomed to the change."
Nevertheless, he wasn't about to rule out air-conditioned comfort entirely…
"…So air conditioning has to be done with a good deal of intelligent care. The less the degree of temperature difference that you live in, the better for your constitutional welfare. If one may have air and feel the current of air moving in on one's face and hands and feet, one can take almost any degree of heat. But as for myself, if I feel close and hot, I cannot well take it. Neither can anybody else, I believe."
Air conditioning in Phoenix
Wright's cautionary advice couldn't dissuade the upwardly-mobile middle-class American homeowner. By 1968, less than a decade after his death, almost 5 million U.S. homes had central air conditioning.
Here in Phoenix, the Austrian Goettl brothers cornered the home cooling market with patents on evaporative coolers (i.e. "swamp coolers") and air conditioning systems. The firm became the largest air conditioning contractor in the United States in the 1960s. At one point, Goettl installed 40,000 air conditioning units annually in Phoenix.
Interested to find more Frank Lloyd Wright in Phoenix? Here is a list of Frank Lloyd Wright's Arizona design projects that stand today in neighborhoods around Phoenix.
---
I grew up, really, in the days before air conditioning. So I can remember what it was like to be really hot, for instance, and I can remember what it was like when your barber shop and your local stores weren't air-conditioned, so it was hot when you went in them and they propped the doors open. – Bill Bryson, American writer and author of A Short History of Nearly Everything