Latest posts by David Meek
(see all)
It's Christmas Eve in Phoenix and I have been listening for footsteps up on the roof. It reminded me of this post that I have wanted to write about condos and hardwood flooring.
I love the look and feel that hardwood floors can bring to a living space. New hardwoods can give your upstairs condo the aura of a downtown loft. Maintenance is a breeze and asthma sufferers delight in controlling dust and allergens with hard surface floors.
However, hardwoods can also amplify foot traffic noise and transmit it to downstairs neighbors.
Condominium developments have regulations called Covenants, Conditions and Restrictions (CC&Rs). A common provision in these rules is to disallow hard flooring surfaces on upper levels. Condo owners consent to these conditions when they purchase the unit.
In other circumstances, HOAs may permit the installation of hardwoods but require formal written approval through the association's architectural control committee. The requesting homeowner completes an application with a materials description, project layout sketch, and a contractor's bid. The application is reviewed by the board and it is subsequently approved or rejected.
Below is a sample of an Article in a Tempe condo development's CC&Rs that prohibit hard surface flooring without HOA board approval: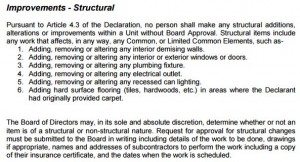 Buyers receive the association's CC&Rs when making an offer on the property. Prospective purchasers have several days to read, review, inquire and object to the provisions before moving forward with the closing. Many buyers assume that they have total control over the structural and cosmetic changes to a condo's interior. Yet this isn't the case when covenants override. Other residents of the community can be adversely affected.
When you are considering an upstairs unit for purchase that already has hardwoods installed, ask to see documentation on HOA approval for the project. Also check your CC&Rs for provisions about tile, laminates or cork flooring.
Please allow me to advise you when you are ready to start your greater Phoenix condo search. I have compiled a list below of condominiums for sale with hardwood flooring to get you started. Newest listings are posted at the top of the list.
Condos For Sale With Hardwood Floors
[showcaseidx_hotsheet name="Hardwood_Floors_in_Condos"]