Latest posts by David Meek
(see all)
There are perqs for Phoenix residents who endure the triple-digit Arizona summer heat. One of them is the deeply discounted resort and spa rates for locals.
Summer is the time of year when the Valley is quietest and snowbirds have returned to the north. Attendance at Phoenix hotels and resorts falls sharply. A quick web search reveals rooms available at more than 60% off of peak winter rates. Deals abound.
I booked one such getaway this week at the Mountain Shadows Resort in Paradise Valley. This reimagined mid-century resort was rebuilt from the ground up beginning in 2015. Its reincarnation opened to the public on April 1, 2017.
Early Days and Rat Pack Phase
In its heyday, the original 1959 Mountain Shadows Resort hosted big Hollywood names like John Wayne, Liz Taylor, and Bob Hope. Even a 1960 CBS detective drama, The Brothers Brannagan, was filmed on location here. A young Burt Reynolds and James Coburn had roles in its single-season, 39-episode run.
The Beatles-esque pop music group The Monkees taped an episode of their show at the resort.
The Mountain Shadows Resort was later owned by Sun City developer and home builder Del Webb from 1963 until his sale in 1981. Ownership changed hands several times through the next two decades. The Marriott and Montelucia Resort brands also had an ownership at-bat.
Later, the aging resort fell into disrepair. Competition from newer, larger Scottsdale resorts like the Westin Kierland Resort & Spa meant that a makeover was overdue, but it never materialized. The original resort property closed its doors officially in 2004 and the acreage was slated for residential development. Although the golf course operation continued, the resort itself remained vacant until demolition in early 2014.
That same year, Westroc Hospitality of Scottsdale and Dallas-based Woodbine Development partnered to recreate this iconic Paradise Valley landmark. It's not their first resort foray into Phoenix resorts. Among the existing projects in their portfolios are the Hotel Valley Ho, Westin Kierland and the AC Hotel in Tempe.
Fast Forward
The Mountain Shadows Resort is back. Today, colonnades of towering palm trees, sleek lines and architectural concrete breeze block transport you to the era of Sputnik and fins on Cadillacs.
The brand new 183-room Mountain Shadows Resort features a tiered infinity-edge azure swimming pool. The Citizens' Club pool is flanked by front-and-center views of Mummy and Camelback Mountains. One at each end.
The only detail out of sync with the 60s vibe was the Taylor Swift tunes on the poolside speakers. But that is easily remedied with some Sinatra.
Amenities, Dining & Golf
The suites are a sensory experience of unique textiles and surfaces. Cottons, linens, glass, concrete floors, tile and stainless steel fixtures. Wall-to-wall arcadia doors, cavernous showers, and views of Camelback Mountain from your soaking tub are just a few of the amenities offered in a floor plan called the immerse premium guestroom. Need something a little larger? The Camelback Presidential Suite is 1,123 square feet and offers panoramic mountain views at sunset from an immense patio.
How about a spa day? Ask the concierge to book a couple's Swedish massage for you at Westroc's nearby Sanctuary Camelback Mountain Resort. Valets transport guests in a Tesla Model X with gull-wing doors. I was on the doorstep of the Sanctuary and swaddled in their signature lime-green terrycloth robe within minutes.
Food and dining with the Mountain Shadows Resort property exceeded my expectations. Breakfast and dinner. Locally-sourced organic ingredients prepared in a stone oven enhance the American cuisine. Don't miss a champagne sabering on the south lawn performed by the hotelier every Friday at 6 p.m. Complimentary tastings, of course.
Valley views from the golf course are first-rate. Mountain Shadows Resort offers a par-3, 18-hole short course designed by ASGCA-accredited architect Forrest Richardson. It features a practice green, pro shop and lounge.
Ample convention and ballroom space on-site at the resort will accommodate your corporate event or wedding.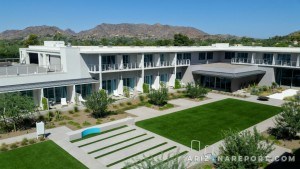 Many other resorts in the Valley offer these discounted "staycation" rates to Arizona residents as well. You will need a valid Arizona ID. Most deals run from June through August. Mountain Shadows Resort offers the locals discount through September 30.
There will be more resorts coming to Paradise Valley in the near future. The 200-room Ritz-Carlton Paradise Valley at Scottsdale and Lincoln Roads is scheduled to open in late 2018.
Book Your Stay
If you are traveling to Phoenix and home shopping in the Valley, I recommend the Mountain Shadows Resort as a central Valley base for real estate hunting. And a few days poolside under the Arizona sun sipping Mai Tais against the silhouette of Camelback Mountain wouldn't hurt either.
The Mountain Shadows Resort is located at 5445 E Lincoln Dr, Paradise Valley, AZ 85253. Book your stay at www.mountainshadows.com or call toll-free 855-485-1417.
---
If you watch a game, it's fun. If you play it, it's recreation. If you work at it, it's golf. – Bob Hope, British-American comedian, singer, dancer who made 57 tours for the USO between 1941 and 1991