Latest posts by David Meek
(see all)
I have searched exhaustively this week for signs of new construction single-family homes in the Phoenix metro under $200,000. They don't exist anymore. The elusive affordable single-family new construction home in the Valley's interior is extinct. File it away between the Dodo bird and woolly mammoth.
Inside the Loop 101, even managing to keep a new home price under $250,000 is a Herculean task. Buyers still need to add requisite lot premiums, elevation changes and cosmetic upgrades. Don't forget to budget for window blinds.
Rising builder prices are showing up in the stats. The median price for a newly-built single-family home in Phoenix is now $320,000. Nationally, it's $313,000. That is well out of reach for homebuyers with a median Arizona household income of $59,246. That's the earnings midpoint for Arizona residents.
According to John Burns Real Estate Consulting, 83% of publicly-traded U.S. homebuilders have an average asking price above $365,000. In Phoenix, a buyer's new home budget has to be in the mid-$300s before geographic options begin to open up.
FHA home loans are the traditional avenue for many first-time buyers. However, FHA financing doesn't lift home shoppers over that mid-$300s threshold. The maximum FHA home loan limit in Maricopa County is $314,827 for single-family homes. At 96.5% LTV, that will only get you a $326,245 home unless you are willing to bring more than the 3.5% minimum down payment to the table.
As a result, new home construction in the Phoenix market is fast becoming a luxury item. When more than half of Arizona households lack the purchasing power to chase the rising prices in nearby new construction developments, options evaporate and people stay put.
When I began looking last month, the closest new construction single-family home for sale under $200,000 in metro Phoenix was 30-miles out from downtown Phoenix in western Buckeye. That becomes impractical for many commuters. There was a sprinkling of new homes further out to the southeast in San Tan Valley, Coolidge, Florence and the City of Maricopa that met the criteria. Florence is 65 minutes from downtown Phoenix. That's just too far of a drive for most buyers to consider.
So many single-family buyers choose to buy older homes or continue to rent. Single-family rents in Phoenix have skyrocketed since 2014, so there is little relief there either.
Here is what my Phoenix MLS new home search under $200,000 revealed this month. Nothing inside a 30-mile radius: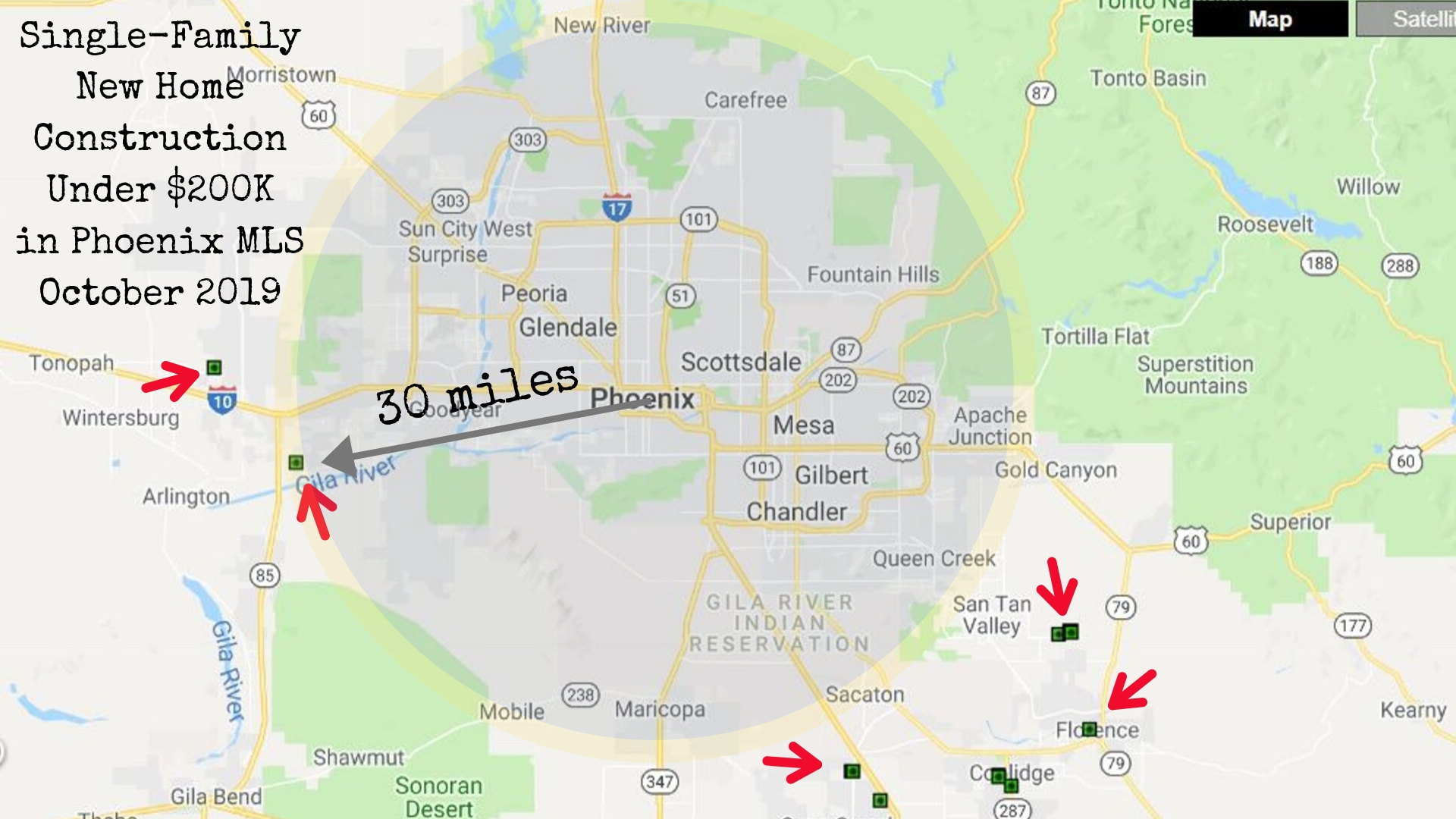 Builders know that this unaddressed market segment is growing as new construction prices increase.
In a September 2019 interview with the Phoenix Business Journal, Jim Belfiore of Belfiore Real Estate Consulting described the dilemma. "Costs are just rising so fast and it's going to continue that. It's going to be difficult for builders to continue to deliver affordable housing in the future," said Belfiore. "It's a large concern we need to figure out solutions to."
It wasn't always this way. Phoenix has long had a reputation for being the most affordable major housing market in the western states. Local mid-century builders like John F. Long and Ralph Staggs built vast quantities of middle-class homes. Long alone built over 33,000 entry-level homes across the Valley. Staggs about 14,000. By my back-of-the-envelope math, just those two builders are responsible for 3.7% of the present-day 1.283 million single-family homes in Maricopa County.
However, Phoenix may be losing that affordability trophy soon. Valley homebuyers have virtually no new home options under $200,000 within a 45-minute commute of downtown Phoenix. There are some townhome and condo alternatives though if buyers don't mind trading $180 monthly HOA dues for shorter drives.
One saving grace for 2019 buyers in this challenging new home market is lower mortgage interest rates. Thirty-year fixed rates haven't been this low since 2016. But that may be the same double-edged sword that is also driving prices up.
---
I laughed when Steven Spielberg said that cloning extinct animals was inevitable. But I'm not laughing anymore, at least about mammoths. This is going to happen. It's just a matter of working out the details. – Hendrik Poinar – Dutch evolutionary biologist and DNA scientist