Latest posts by David Meek
(see all)
Real estate scams are thriving online here in the Phoenix metro. The perpetrators utilize increasingly complex and deceptive methods to extract your money. It's the next evolution of the Nigerian prince email phishing hoax.
I have an example and will show you ways to identify the scams.
Scammers know that real estate transactions can hinge on emotion and involve large amounts of money. The internet and unsuspecting money transfer services like Western Union allow the perpetrators to operate at a distance, sometimes thousands of miles away from their victims.
If you are searching online for your next home in Phoenix, chances are high that you have already encountered one of these fraudulent advertisements like the one below. I see these types of online real estate scams 50+ times each year. The ads target buyers and renters who are seeking homes for sale or for rent.
Today the scammers struck again
A buyer client texted me this afternoon and asked that I investigate one such ad. This Scottsdale property was sent to him on a Zillow Alert.
Relative to the exterior, the home has a palatial interior based on the photos. It is advertised for $89/sqft in an 85260 neighborhood where homes sell consistently for $210/sqft or more.
This Zillow and Trulia listing showcases two gourmet kitchens in the same house (likely an inattentive oversight on the scammers part). The front elevation photo has several Google watermarks on it. This means a seller copied the photo and didn't have an interest in performing this basic marketing step. Improbable for a motivated seller who priced his home low for a quick sale.
Here is a screenshot of the ad. Notice that there is no actual property address given, just a jumbled zip code and street name.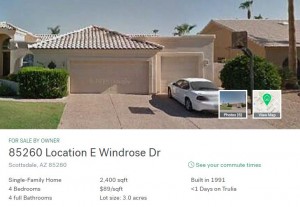 Next, I looked more closely at the written description below. The phrase "please call at" struck me as odd English.
Furthermore, prospective buyers are directed to call a 408 area code in San Jose, California. On its own, that fact wouldn't be exceptional. Plenty of people use mobile phones from distant area codes. However, the poster also requests that callers provide this out-of-state seller with a property ID number. Why would a local homeowner need a property ID number to understand which of his homes the caller was inquiring about? If the poster was handling multiple properties, this would probably be a real estate brokerage, not a For-Sale-By-Owner situation. By law, that would involve a broker's name and phone number.
My next clue was that the ad above boasts "3.0 acres." The home in the photo is squeezed between neighbors and probably has approximately 70 feet of street frontage. If it truly sits on three acres, my back-of-the-envelope math indicates that a rectangular lot would have to be 1,866 feet long. That is over one-third of a mile deep. Very unlikely.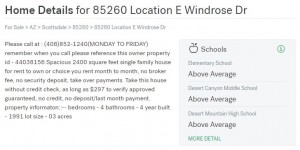 The ad has since been removed by Trulia and Zillow.
Here is how the scam works
Typically, the hoaxers copy online photos from random MLS listings. A fictitious property profile is created and posted to websites that feature FSBO (for sale by owner) or rental ads. Buyers are attracted by an unbelievably low price, tantalizing loan terms or lack of a credit check.
Prospective buyers or tenants call the listed phone number (often from an outside area code) and ask for more information. A property showing is promised, but the seller indicates that the buyer must pay a hefty $297 application fee upfront. Funds are wired and the online ad vanishes along with several hundred dollars of the buyer's savings. The property never existed.
Real estate portals like Zillow, Trulia and Craigslist aggressively pursue these hoaxers and shut down their accounts. Despite their best efforts, it is still a constant cat-and-mouse game.
How to identify scam ads
Property address is not revealed in the ad
Sellers name in ad does not match in Maricopa County Tax Records. Search records here.
Application fee of several hundred dollars is required before a property showing
Price is 10% or more below market for comparable houses
Exterior photo is modest compared to a luxury interior
Seller only emails/texts and refuses to talk by phone
The map pin does not match property location
Seller asks for a property ID number or verification code to discuss which home you need info on
Seller is unwilling or unable to meet you in person
Property curb photo does not match Google's Street View image for that address
Awkward and broken English in written communication
Numerous spelling and/or grammatical errors in the ad
Seller claims to be located far away or 'traveling on business' in another country
Seller represents that he is in an emergency situation and must sell or lease soon
The money wire scam
In another well-known real estate scam, the email account of a real estate agent is hacked. Buyers are emailed by the hacker, posing as the real estate agent. Buyer clients of the agent are informed that there has been a change in the wiring instructions of the local Phoenix title company where they will close escrow on their new home. Revised wiring instructions are sent to the buyer. Tens or hundreds of thousands of dollars intended for an Arizona title company are then unwittingly wired out of the country by the buyer to the scammer's foreign bank.
Always verify wiring instructions with your Realtor by phone.
Trust your instincts
If a real estate listing is too good to be true, it probably is. Ask your real estate agent to investigate. He or she will have access to MLS histories, tax records and seller contact information. Never send money to a party who you have never met in person.
If you believe that you have been defrauded in a real estate listing scam, contact the FBI's Internet Crime Complaint Center (IC3) at www.ic3.gov.
---
The money's the same, whether you earn it or scam it. – Bobby Heenan, former professional wrestler and color commentator, known for his tour in the World Wrestling Federation (WWF) and American Wrestling Association (AWA)