Latest posts by Judy Hedding
(see all)
Phoenix Casino Map and 9 Top Gaming Venues
People seeking the thrill of the bet and the win will find ample opportunity in Arizona to scratch that itch. While your chances of striking it rich at a slot machine, poker table or with a lottery ticket are basically between slim and none, if you approach gambling with your budget in mind and for the entertainment value of the experience, any winnings are merely like the cherry on top of the ice cream sundae.
Arizona has hosted gambling enterprises for decades. From horse racing to penny slots, you can be certain that there's a way to facilitate the plunking down of cash in the Grand Canyon State.
You must be at least 21 years old to gamble in Arizona.
Casino Gambling
Arizona Revised Statutes (A.R.S. 5-601.02) defines the Gaming Compact that each of Arizona's 22 Indian tribes abide by. Covering more than 25% of the state's land acreage, Native American tribes have found casino gambling to be a profitable enterprise, enhancing the revenue generated in support of betterment of Arizona's Native people. There are 16 tribes operating casinos in Arizona; eight of those casinos are located in the Phoenix/Scottsdale/Mesa metro area (Maricopa and Pinal Counties). If you are visiting or live in this area, you are probably within a 30 minute drive of one of these casinos. All the casinos operate 24/7, although some features (restaurants, bars, entertainment, bingo, for example) may have designated days of the week and hours.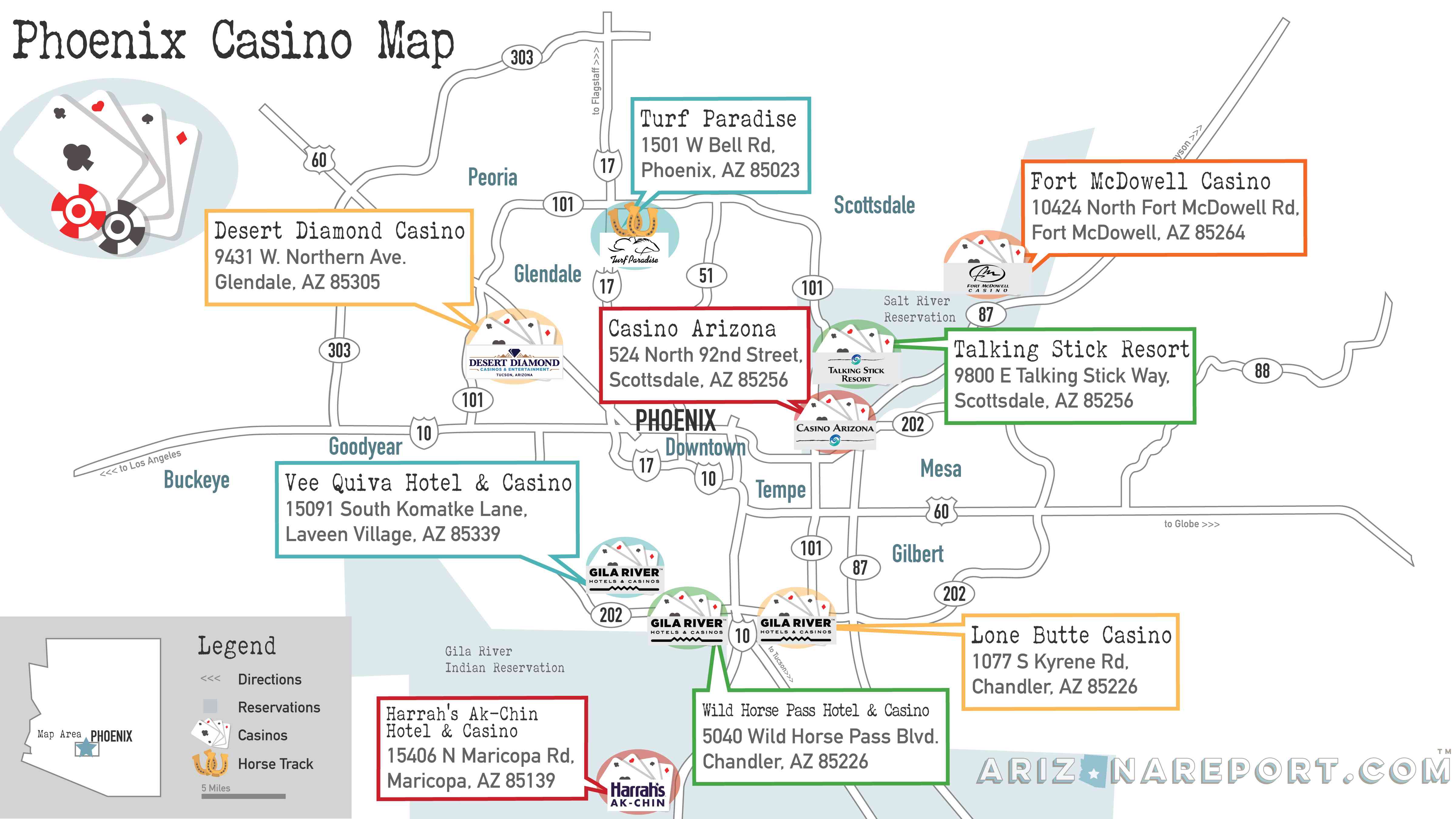 Talking Stick Casino
Central Scottsdale right off the Loop 101 is where you'll find the classy and upscale Talking Stick Resort and Casino. The casino boasts the largest poker room in Arizona, and hosts several tournaments throughout the year including the Arizona State Poker Championship. Need a massage to relieve the stress while you play? No problem! Of course, you'll also find table games, Keno and lots of slots at Talking Stick.
When you aren't gambling, get some rest in the adjacent highly acclaimed hotel, or enjoy a meal at one of the fine dining establishments. The Wandering Horse Buffet is a destination in itself; on holidays be aware that you and a thousand of your friends and neighbors will be heading in that direction. For one of the most scenic restaurant views in the Valley of the Sun, Orange Sky is the fine dining experience. Winner of multiple Wine Spectator Awards, even if you don't visit the casino you'll want to put Orange Sky on your list of special occasion dining spots. Talking Stick hosts big-name bands and entertainers in The Showroom and in the Ballroom. Be aware: the pool at Talking Stick is known for its parties and entertainment, almost more of a concert venue than a lounging pool.
If a family vacation is the plan, the entire family can experience swimming with dolphins, a wonderful butterfly experience, a huge aquarium, animatronic dinosaurs and free family-friendly entertainment at OdySea in the Desert, all of which are also on Salt River Pima-Maricopa Indian Community land, adjacent to the Talking Stick Resort and Casino.
Casino Arizona
Located at the Loop 101 and McKellips in South Scottsdale, Casino Arizona is a sister casino to the Talking Stick Casino. There are more than 900 slot machines, live Blackjack and other table games, and Keno. Catch the game while you play video poker slots in the sports bar. This casino also boasts the largest poker room in Arizona, just like Talking Stick does! Well, they are both pretty big, I guess….
There are nearly 50 non-smoking tables in the poker room here. Got a dauber? Casino Arizona is a popular spot for Bingo! Bingo! Bingo! Don't forget your lucky troll doll, lucky penny, and lucky earring(s). Gamblers here don't come for the swimming pool (there isn't one) or the big name bands (they don't perform here), but there is musical entertainment in the Showroom, Monday Night Football in the ballroom, a buffet restaurant and an upscale steakhouse on the premises.
Gila River Casino – Wild Horse Pass
Table games, a poker room and more than 1,000 slot machines beckon at the Wild Horse Pass Hotel & Casino in the southern part of the Valley of the Sun, near Chandler. The Showroom here is one of my favorite concert venues, with 1,400 seats hosting big name bands, tribute bands, comedians and other entertainers. On the weekend, don your finest dancing club attire and stop in at Chrome Nightclub.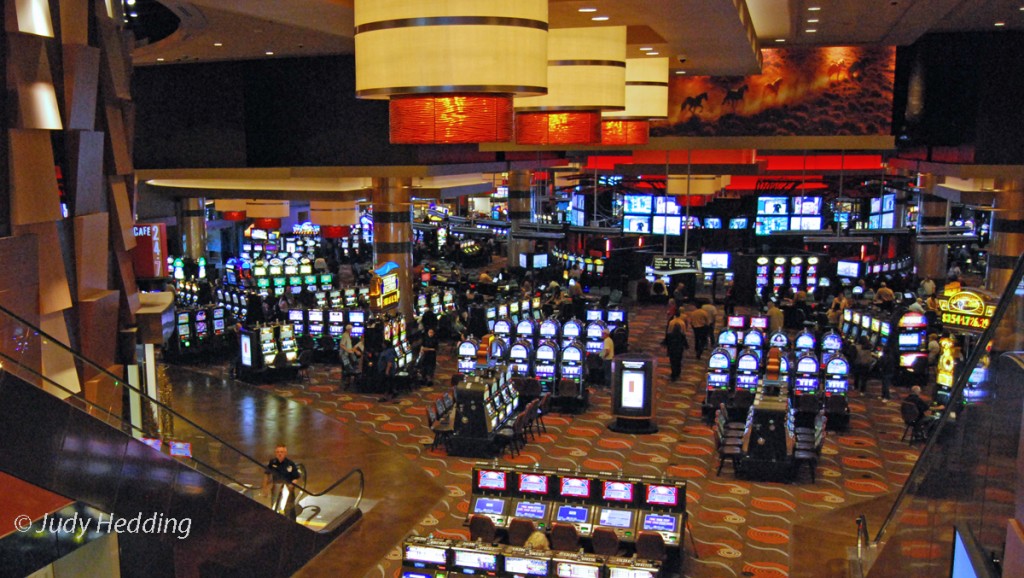 There's no buffet at this casino, but if a huge steak is what you desire, Shula's Steak House can fulfill that request with a 48-Ounce Porterhouse. Football fans know all about Don Shula, and this restaurant is a tribute not only to beef, but also to the sport and a very special 1972 NFL team.
Wild Horse Pass Casino has a shuttle service serving Sun City, North Phoenix and East Mesa. After you've counted your winnings, you might want to go shopping at Phoenix Premium Outlets located just around the bend from the casino. The AAA Four Diamond hotel adjoins the casino, with all the amenities you'd expect with lower than typical Scottsdale prices.
Gila River Casino – Lone Butte
Slots, game tables and a large Bingo Hall are the draws at Lone Butte Casino in Chandler. Local entertainment is provided without cover charge in the Lounge. The Sports Lounge has video poker and table games, in addition to sports-bar-typical food offerings. There is no hotel associated with this casino. Lone Butte Casino has a shuttle service serving Sun City, North Phoenix and East Mesa.
Gila River Casino – Vee Quiva
Vee Quiva is located in Laveen, an urban village in West Phoenix. Closest to West Valley Communities like West Phoenix, Goodyear and Avondale, this casino offers all the right ways to win big (or part with your money) including daily Bingo sessions and the ability to play multiple electronic table games from your own play station. There is a hotel associated with this casino, which has earned the AAA Four Diamond Award and TripAdvisor Certificate of Excellence, making it an obvious choice in that part of town for luxury and gaming, as well as musical entertainment, karaoke and trivia. This casino's upscale eatery is Ditka's which specializes in steaks and fresh seafood.
Fort McDowell Casino
An enterprise of the Fort McDowell Yavapai Nation, this casino in Fountain Hills has the slots, table games, Bingo and daily poker tournaments. Even if gambling is not your thing, you can enjoy free musical entertainment Thursday, Friday and Saturday nights featuring local bands in the saloon. The We-Ko-Pa Resort & Conference Center has a spa and a heated pool. The golf courses here achieve high grades.
Desert Diamond Casino
The first phase of the Desert Diamond Casino opened in the West Valley of the Phoenix area in 2015. Considered a temporary solution and basically slot machine oriented, the Tohono O'odham Nation (click here for pronunciation) continues to expand that project into a full-service casino, resort and spa. This casino is farther north than Vee Quiva, mentioned above, and is closest to Glendale, Peoria and Surprise.
Harrah's Ak-Chin Casino
The southernmost casino operation in the Greater Phoenix area, Harrah's Ak-Chin Casino, is located in Maricopa (the town) about 35 miles south of Downtown Phoenix. Residents of Casa Grande and Chandler are close to this location. The Ak-Chin Indian Community owns and operates (in cooperation with Harrah's) this casino, as well as the hotel associated with it. After you've mastered the slots, you can even trade in your reward credits for a round at Ak-Chin Southern Dunes Golf Club, a Troon Golf managed course that's about six miles away. Those seeking a family weekend getaway that combines a casino, hotel, pool and entertainment for the kids might be well to give this destination a look; within walking distance from the Hotel and Casino you'll find the UltraStar Multi-tainment Center at Ak-Chin Circle. Yes, that's a mouthful, but you don't have to remember the name to know that everyone can enjoy first-run movies, bowling, laser tag, and arcade games. The Luxe Lounge is dedicated to the 21+ crowd who enjoy darts, playing pool, broadcast sports and general mingling.
Horse Racing in Arizona
The racing season at Turf Paradise in North Phoenix runs from mid-October through early May. This is the only place in the metro area with live thoroughbred racing, five days per week, Saturday through Wednesday, during those months. Turf Paradise hosts about 10 races a day scheduled approximately 30 minutes apart. Turf Paradise simulcasts from race tracks around the country on all race days. Entry fees are very affordable – less than a movie ticket – and the racetrack is a welcoming place even for those who are not aficionados of the sport. I highly recommend the Turf Club, where indoor tiered seating, exclusive betting windows, and good views of the track make for a comfortable day at the races. Of course, you may always venture outside and join the General Admission Grandstand crowd, especially if the kids need to expend some energy. Reservations are required for the Turf Club, and tables seat two, three or four guests.
OTB Outlets in Arizona
Off-Track Betting ("OTB") for horse racing is legal in Arizona and is offered at various licensed businesses (mostly, but not exclusively, bars) around the state. Check the Arizona Department of Gaming-Racing for OTB locations. Call before you go to ensure that the business is open and still offering OTB services.
Greyhound Racing in Arizona
If attending live dog races in Arizona is on your bucket list, you'll have to take that bucket elsewhere. We no longer have live greyhound racing in Arizona. The nearest live greyhound racing is about six hours from Phoenix in Tijuana, Mexico. That might be an option for you if you are visiting San Diego, a popular vacation spot for Arizonans (they even have a name for us: Zonies). Live greyhound racing used to take place at Phoenix Greyhound Park near Phoenix Sky Harbor International Airport. That racetrack closed in 2009, and the property is now the site of a huge swap meet/flea market. The last live greyhound race track in Arizona was in Southern Arizona at Tucson Greyhound Park. The final live race there took place in 2016. Now you can only bet on the dogs via OTB.
Sports Betting in Arizona
The U.S. Supreme Court has given states the authority to determine whether or not to legalize betting on other sports like professional MLB, NBA, NFL, NHL, college sports, boxing and others. While Arizona would certainly like to generate more revenue from allowing this type of activity, state laws do not currently permit it, and legislative action allowing sports betting would necessitate a renegotiation of agreements with the tribes operating casinos in the state. As of this writing (2018) sports betting through a third party is still not permitted in Arizona. Of course, you can still wager with your spouse, sister or roommate while you watch the game and munch on nachos.
Arizona Lottery
In Arizona you must be at least 21 years of age to purchase or redeem an Arizona Lottery ticket. The only place you can buy a legitimate Arizona lottery ticket is in person at an approved seller, like a grocery store, gas station or convenience store. If you are offered Arizona lottery tickets from an Internet vendor or by mail or by email, do not purchase them; they are fake.
Powerball and Mega Millions are multi-state lotteries which include Arizona. The Pick (twice per week), Fantasy 5 (six times per week), and Pick 3 (six times per week) are all jackpot games where you can select your own numbers or let the computer select random numbers for you. Arizona Lottery offers many types of Scratchers tickets, typically ranging in price from $1 to $30. You can even go online to see which Scratchers tickets have not yet been won; they are just waiting for you to find them!
Where does the money go? By law, money raised by Arizona Lottery sales is used for programs that support Arts & Education, Health and Human Services, Economic Development, and Environmental Conservation. In the fiscal year ending 2017, nearly $200 million benefited Arizona organizations involved in those endeavors.
It's Fun, But What If You Can't Stop?
Gambling can be fun when you are in control and know when to stop. It can easily become an addiction, and rarely resolves financial struggles. More often than not, it creates more. If you or someone in your family has gambling problem, the State of Arizona has resources to help you curb your appetite for gambling, or stop completely. There is even a program that allows you to voluntarily ban yourself from local casinos. If you need help, or simply have questions, you can call the hotline 24/7 at 1-800-NEXT-STEP.
---
Casino gambling is colorful and dramatic and theatrical. – Steve Wynn, American casino developer