Latest posts by David Meek
(see all)
The home delivery economy is booming in Phoenix. In fact, at 4.3 million square feet, Amazon now has more warehouse space under roof than any other company here in the Valley. That is a sign that more delivery drivers than ever are looking for your driveway. A refresh of your curb paint can ensure that you don't miss a package or your next Uber ride to Sky Harbor.
"So many more services like Uber and Amazon are now relying on homes to be properly addressed at the curb. It makes the delivery life easier," said Eric Carpenter who owns AZCurbPainting.com. His company specializes in residential curb painting and commercial parking lot striping in Phoenix.
He knows how much delivery businesses depend on well-marked house numbers for speed and accuracy. Carpenter also founded DeliveryDine.com. His drivers ferry meals from select local restaurants to homes in nearby Phoenix zip codes.
Carpenter's AZCurbPainting.com company can perform a quick sidewalk facelift for $15 to $20. For homeowners who choose the $25 package, his painters will stencil a tri-color American flag or your logo of choice with your street number. The flag is their most popular customization.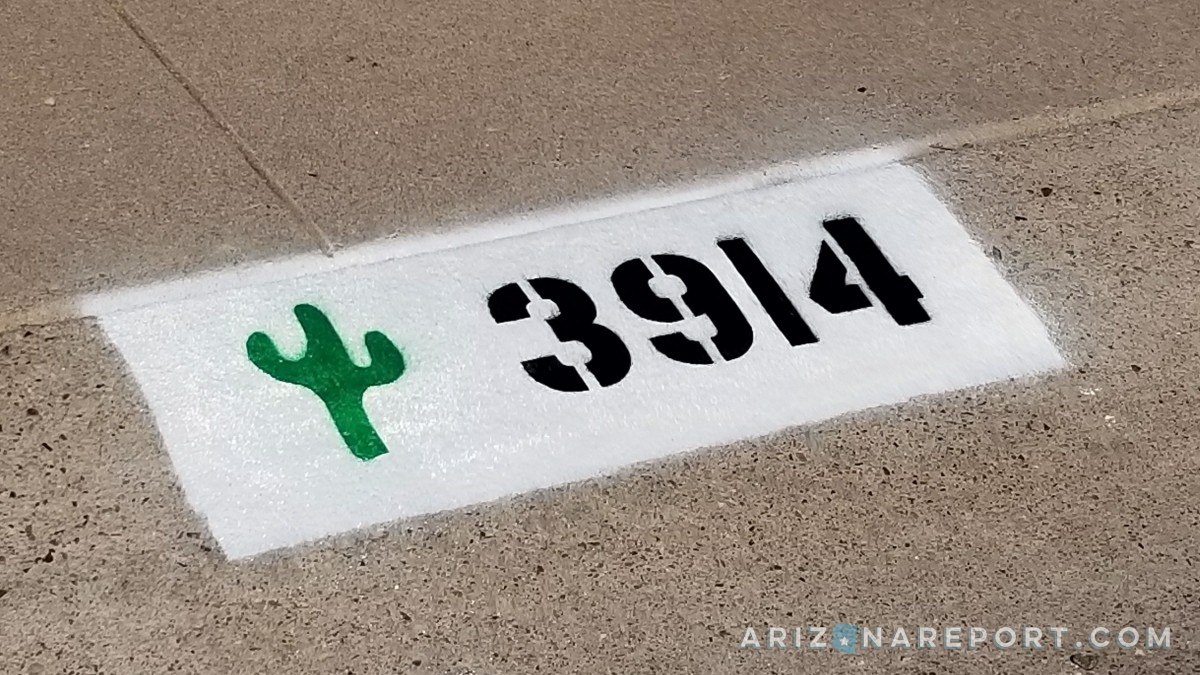 This enterprising Valley business owner and his AZCurbPainting.com employees have painted over 28,000 curb address numbers around the metro since 2012. Much of his work has been commissioned by the City of Phoenix and block watch grant programs that aim to bring street number visibility to entire communities. Their latest projects have been in Westbrook Village and the historic Bel Air neighborhood.
First responders may need to find you fast
Street number visibility has obvious benefits for 911 and first responders, too. An ambulance circling the block in the dark is a preventable scenario. When seconds count, everyone benefits from distinct and reflective street numbers.
How long does it last?
A professionally painted curb can last 5 to 6 years. Consumer-grade spray paint though might only give you a year or two in the Arizona sun. Instead, Carpenter's crews use professional-grade paints and reflective glass micro-beads at application. These are the same materials that municipalities use on road striping and commercial businesses use in parking lots.
"I went to the airport to see what they were using (for paint). Turns out those materials stay around a long time. I wanted to use what would last," said Carpenter.
Rules & Regulations
Commercial curb painters are licensed annually in the City of Phoenix. A local ordinance requires the street numbers to be located within three feet to the right or left of the driveway. Reflective paint must be used. Additionally, street numbers must be also at least 3″ tall. Carpenter's crew uses 4″ interlocking metal stencils for a uniform look.
If you live in a homeowner's association (HOA), remember to check first with the architectural control committee in the neighborhood and read the covenants, conditions, and restrictions. Curb painting may not be an established practice on your block. Some HOAs may control the design of your street number or prohibit curb painting altogether.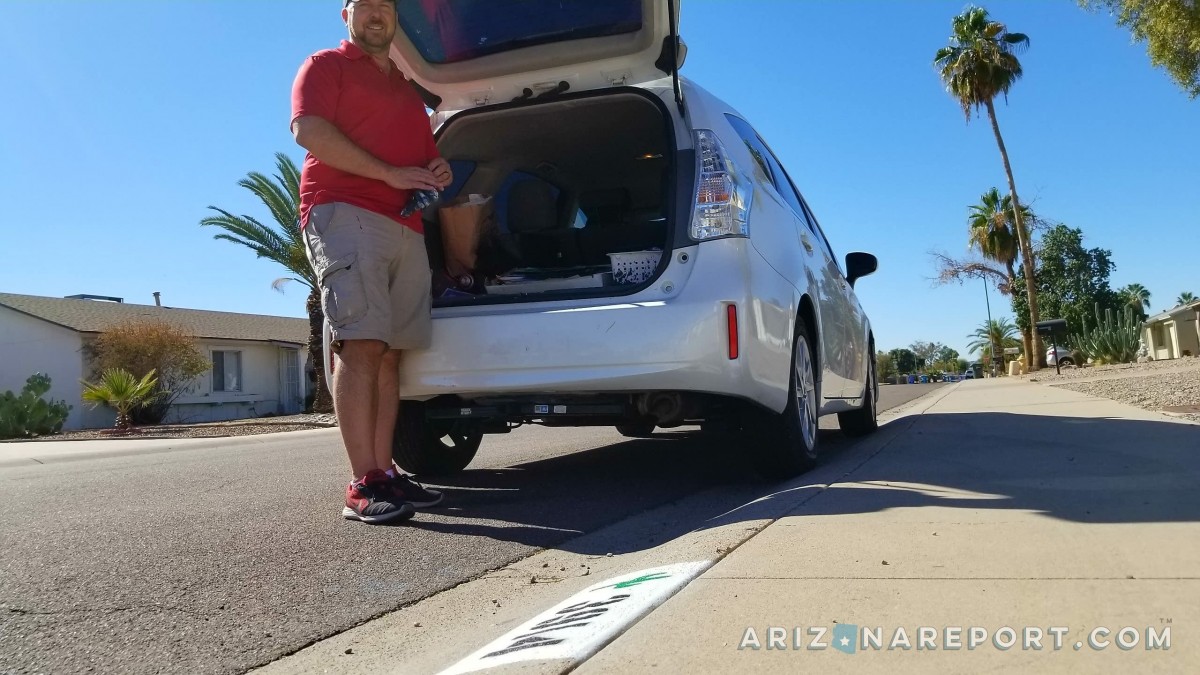 Hiring it done
The geographic service area for Carpenter and his team of three is the City of Phoenix proper. The team will service addresses outside of city limits, but a surcharge of $5 to $10 applies. Lead time for orders is 2 to 3 days unless the property is located outside of the local service area.
AZCurbPainting.com has a handy online ordering website that accepts credit card payments. If you prefer to call, Eric Carpenter can be reached at 602-413-0225.
---
I don't want to live life too cautiously. I mean, you can step off a curb and twist your ankle. – Rickie Fowler, American professional athlete and PGA Tour golfer