Latest posts by David Meek
(see all)
For those nearing retirement, reverse mortgages are a powerful tool. These cash-out home loans have been around since the early 1960s. With them, Americans age 62 and over may tap frozen equity in their principal residences.
Today's FHA-insured reverse mortgage, the HECM, is regulated by the U.S. Department of Housing and Urban Development (HUD). The acronym, HECM (pronounced heck-um), is pared down from Home Equity Conversion Mortgage.
Similar loan programs used to access a homeowner's equity like the HELOC (home equity line of credit) or a refinance, result in compulsory monthly payments. Reverse mortgages don't.
Baby Boomers who own their homes can use the HECM to create a source of cash for leisure, lifestyle or medical needs. But there is another benefit to this type of loan. Since 2009, the HECMs have also been available to help homebuyers purchase their next home.
The HECM For Purchase is the next generation of the reverse mortgage.
While a HECM For Purchase loan doesn't require you to make monthly payments, it does require an approximate 50% down payment upfront. The deposit amount is derived from a formula based on age of the youngest borrower, current interest rate and loan size (see matrix below). Most participating homebuyers fund the deposit with equity from a current home or cash on hand.
Here's how the HECM For Purchase loan works:
Must be 62 or older (or have a spouse who has reached that age)
Be credit and income approved
Deposit approximately 50% down on the new home (see matrix below)
Loan underwriting process allows for a standard closing window of 45 days
Deed to the home stays in buyer's name
Qualify to pay ongoing property taxes, insurance and maintenance based on current income
Interest accrues on loan balance in the background (rate comparable to a conventional loan)
Ability to make optional, unscheduled payments to pay down the loan principal
If home value drops below loan balance, debt is forgiven when home is sold (non-recourse loan)
No prepayment penalty, pay off loan at any time
Live in the home as a primary residence for the rest of your life with no payments
The primary advantage of the HECM For Purchase outside of the lack of monthly payment is that buyers may not need to dismantle their nest egg to accomplish a home purchase if they don't want to. The buyer may not borrow the down payment funds.
Professionals in real estate and retirement planning circles may know the mechanics of a traditional reverse mortgage. However, few actually are aware that a HECM product can also be used to buy a home. It is a topic that I think needs more attention among Realtors and financial advisers for their clients who are looking to retire.
That's why I invited a HECM For Purchase specialist into the Scottsdale studio to give you the details on how this reverse mortgage product works.
Use HECM Reverse Mortgage to Buy Your Retirement Home #6
My guest for episode #6 of The Arizona Report™ is Richelle Hopkins. Richelle is a HECM For Purchase specialist with Retirement Funding Solutions (RFS) in Scottsdale. Richelle started with Wells Fargo in the reverse mortgage industry in 2004. In 2015, she joined RFS. That time and experience makes her a seasoned veteran in the HECM space.
In this podcast episode, we discuss:
The history of the HECM
Mechanics of credit and income qualification for the loan program
Scenarios where homebuyers have chosen the HECM For Purchase loan
Below is a matrix for the HECM For Purchase program. It shows, based on the age of the youngest borrower, how much a buyer will need to put down. Down payment amounts in this matrix are calculated based on a 4.75% interest rate scenario (5.900% to 10.971% APR). Your interest rate may be different, and the corresponding amounts below would change: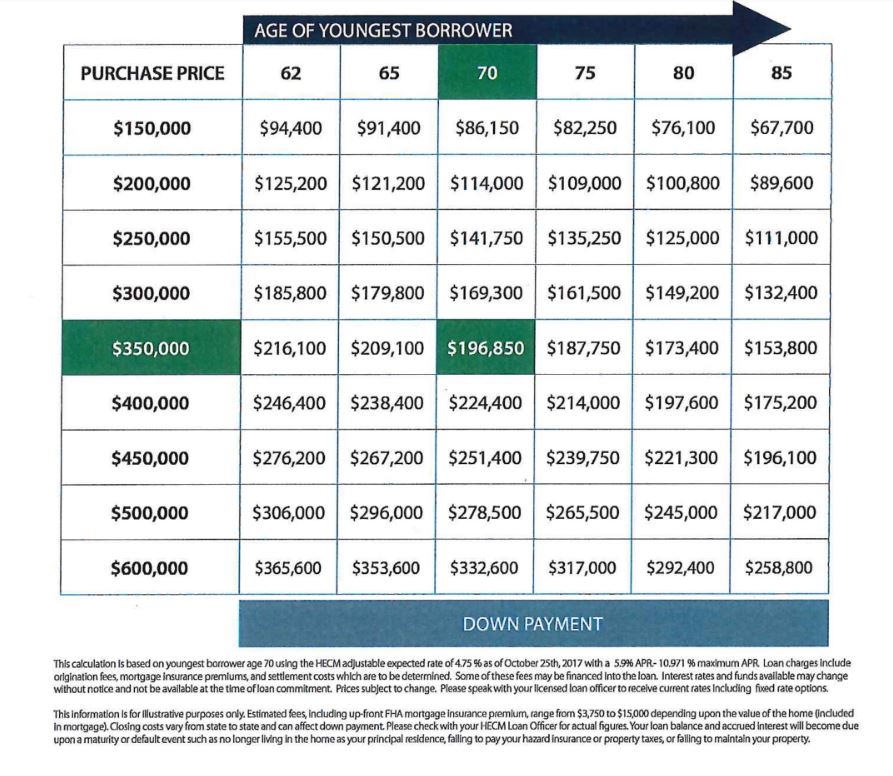 In July 2018, Mutual of Omaha Bank completed the acquisition of RFS's parent, Synergy One Lending, a San Diego-based company. Retirement Funding Solutions is currently the #1 lender in the HECM For Purchase category and serves 45 states.
If you are interested to see if this loan is right for you, contact Richelle Hopkins at 602-312-7801. Visit her website www.ihecm.com for more information or to be matched to a specialist near you. Richelle serves all of metro Phoenix from her Scottsdale location.
This episode was recorded in my Scottsdale studio on August 1, 2018.
---
I see retirement as just another of these reinventions, another chance to do new things and be a new version of myself. – Walt Mossberg, American journalist and technology columnist for The Wall Street Journal