Latest posts by Ken Lynch
(see all)
If you are getting your house ready for market, you've probably worked with your agent on making repairs and getting the place ship-shape.
But what about staging?
Wine rack in the kitchen? Check. Living rooms chairs set just so? Check.
Staging complete, right?
Ummmm, not so much.
I've talked to stagers here in the Valley. I even have a few acquaintances who do it for a living. They're highly trained, artistic, and they love, I mean love, real estate. Here's what they tell me:
Staging is meant to capture the buyer's imagination and help them see your home as theirs. It is about stoking desire. You want your home to become the one, to the exclusion of any others on the market.
In the Valley, home buyers can be picky. Whether in Anthem or Gilbert, Scottsdale or Mesa, Valley buyers expect homes that are in great condition and have a ton of aesthetic appeal – their image of a dream home.
So, yes, staging your Phoenix home makes a difference.
Before and after
Let's look at a few pictures, shall we?
Here is a typical un-staged, living area/bonus room in a perfectly adequate house: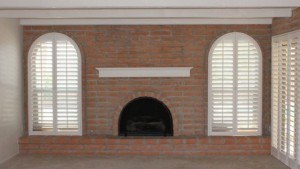 How does this room strike you? I won't try to answer that, but I can't get 'brick pizza oven' out of my head. I'm betting you don't envision this as your dream space, either.
Now, here is the same room after it's been professionally staged: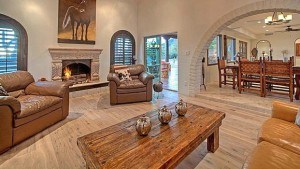 I'll give you a moment to scroll back to the 'before' picture.
Yup, same room. Beautiful, isn't it? This example is courtesy of K Casa Design in Cave Creek. The powerful impact on the buyer is obvious. But how was it done?
Here's what I noticed. You will probably see even more.
Artful lighting
Window highlights and treatments
Pulling the fireplace and mantle together and adding accents
The interplay between darker and light colors
The art above the fireplace picks up the furniture color
The hint of green and mountains in the backyard
The quality of the photography, including wide-angle lens at an offset angle to showcase the archway and dining space
The coffee table placement is perfect with three thingies (it doesn't matter what they are) that draw the eye to the middle and increase the sense of depth.
It is true the flooring is new and the ceiling was altered, something you might not do when you stage. But still. I mean, look at it. That's professional staging. That's what it means to bring a space into the realm of someone's dreams.
Here are the interior paint colors that decorators are talking about
What else did I learn from stagers? This: Almost all buyers make a go/no-go decision based on internet pictures.
Staging is a reaction to the fact that you need to post internet pictures that are as appealing as possible. Doing so increases traffic, improves your chance of getting early offers, ups the possibility of multiple offers and ultimately, helps maximize your selling price.
Look again at the 'before and after' pictures above and ask yourself which one impresses you. Case closed.
NAR: Staged homes sell for more
But there is more substantial evidence to support staging.
According to a National Association of Realtors (NAR) member survey, a majority of Realtors stage homes at least some of the time and just over a third (34 percent) stage every time.
Why? A majority of those same Realtors said buyers make higher offers for staged homes. 37 percent said staging translated to a 1 to 5 percent increase in value. A significant number – 22 percent of Realtors representing buyers – said the increase is closer to 6 to 10 percent.
I can hear you doing the math now!
DIY do's and don'ts
We'll get into staging costs and options in a second, but first, let's take a break and enjoy some fine (and free) DIY insights from the pros:
De-personalizing is important. Buyers can't imagine themselves living their dream if they see your family photos on the walls.
Get other opinions. Do you have friends you admire for their frankness? Invite 'em over to walk through and give you their impressions. Assuming they'll be honest, you can gain valuable insight in how potential buyers will perceive your property.
Remove large furniture from small rooms.
Have a pet? Not all buyers are pet people, and even if they are, they like to imagine their dream home is pet-free. So:

Pick up pet bowls and bedding
Eliminate odors
Ramp up your a/c filter-changing schedule. Those filters catch pet hair and odors.
Vacuum and sweep. Sweep and vacuum. Then do it again.
Run regular outside Poop Patrols, especially when you know a buyer is on the way.

Don't neglect the landscaping. Too many sellers overlook this, assuming it's not adding value. Remember your goal: creating desire.  Let people imagine your home as their dream home. Curb appeal is HUGE.
21 landscaping tips to help you sell 
OK!  We're back.
Notice that most of these tips assume you are living in your house as you sell it. Staging a vacant home is different. In that case, home staging experts may want to borrow some of the furniture you already moved, or if you are working with a larger staging business, use furniture they keep on hand precisely for this purpose.
How much does home staging cost?
The National Association of Realtors said in 2015 the average cost to stage a home was a little less than $700. If you are in Tempe or Chandler or other upscale cities in our market, figure it is a bit more. $1,000 is a good guess for a consultation, evaluation, a custom plan and some light staging work. Negotiate from there.
Recall that when done correctly, staging can add from 1 to 6 to ten percent to the sales price, according to that NAR survey.
Selling and staging opens up all kinds of emotional windows, exciting and scary, and those emotions can have an impact on your spending decisions. One of your biggest decisions will be where to stop. Enthusiastic staging can lead to extensive remodeling, which may or may not be what you had in mind. Coolly and carefully think through how far you want to go – in advance. New lighting, interior paint or some new flooring is one thing. A fully remodeled kitchen is something else. So are the costs.
Stagers offer a range of service
Many stagers, especially the smaller owner/operator ones, will offer "DIY consultations," where for a one-time fee, they will visit, inspect your property, prepare a thorough analysis and give you a detailed list of recommendations. You are then on your own to make it happen.
Others have relationships with interior designers and craftspeople. They arrange all the necessary work and supervise the job for you. The aforementioned K Casa Design is a good example of a local Phoenix staging business that handles everything from consultation and design to subbing out and supervising the work.
Like any other business, you can find Phoenix home staging companies through a web search. You will discover local storefront businesses such as:
Keep in mind a lot of excellent stagers don't have big offices or storefronts. You can also find many fine local professionals on sites like Thumbtack.
Nextdoor is a free social sharing site that ties neighborhoods together to swap information and recommendations. I recommend getting on there and asking for referrals. My family has found everyone from doggie daycare pros to roofers through Nextdoor.
Summing up, in Phoenix real estate, staging is a growing trend and practitioners of the art are now well established, ranging from large storefront operations to sole proprietorships. Most Realtors support staging and say it adds to the value of the home. Most sellers will find the right spot along the range of services that suit their needs and budget, from light staging to wholesale remodeling with resale in mind. It's a good idea to get ready for staging by doing some advance work yourself and having a good idea of how much change and expense you are ready to commit to.
---
I like my house to be unique to me. Sure, I've bought plenty of things out of a catalog, but the way I put them together in my home is special. You might have bought your sofa at a major home decorating store, but the rug you found at the flea market is so unique, it takes your room from 'carbon copy' to 'simply yours' in no time. – Nate Berkus, American interior designer and TV personality