Latest posts by David Meek
(see all)
In my 20s, thrills meant spontaneous Cancun vacations and nightclubs with friends. In my 40s, the pleasures in life are the simple things like a new garage door and overhead opener.
Recently, my 1990s-era overhead opener was straining to lift a rickety and dented garage door. Both the door and opener sounded as if they were about to fall off of the ceiling with the next light breeze. Replacement had been imminent for months. I asked around.
Joe Batters with A-Superior Garage Door in Phoenix was enthusiastically referred to me by two friends who finished similar projects last year. Joe is a 20-year veteran in the residential garage door industry in the Valley. I invited him over for an estimate and learned a few things in the process. That's Joe in the photos.
Repair vs. Replacement
Your garage opener issue may be easily fixed with a quick service call. According to Joe, here are a few common reasons why your garage door opener will not function:
bad start capacitor (indicated by a smoking overhead unit that may leak oil)
overloaded circuit board
track misalignment
electronic sensor eye misalignment
broken spring(s)
dead batteries in the remote control transmitter
When the service calls add up or you have a standing monthly appointment with your garage door tech, it is time to look at replacement. In my case, DIY repairs to the overhead unit and door track weren't keeping up. I needed to consider that it was time for complete replacement by a professional.
Overhead Opener Types and Options
Homeowners have a few options for the type of drive mechanism in an automatic overhead garage door opener:
chain drive
belt drive
screw drive
Chain drives are the least expensive and most common but are the noisiest of the three types. It is best to avoid a chain drive if your garage is adjacent to a living area in the house or if the garage is located directly below a bedroom in a two-story home.
Openers with belt drives are slightly more expensive than chain drives, but operate much more quietly. I chose the belt drive because silent operation was a critical consideration. My old chain drive could be heard from anywhere in the house when it was opening. The $75 premium over the chain drive counterpart was well worth the upgrade in my opinion. Belt drives, too, are known for their long life and low-maintenance qualities.
Screw drives are recommended for DIY installations since there are fewer moving parts. There are no chains to slack or break. However, they can require more adjustments over time in climates like Phoenix with wide seasonal temperature swings. Screw drives are becoming less popular over time according to Joe.
In addition to the drive type, there are more options and upgrades to consider when choosing an overhead opener for your home:
Wi-Fi integration for remote control and monitoring from your smartphone via app
battery back-up for access during power outages
digital wall stations that display time/temperature, diagnostics, and closing timers
wall-mounted exterior keypad access panel for entry when you don't have a remote or for guest entry
Garage Door Options
When purchasing a new door, don't overlook the upgrades. It can be an opportunity to dress up the exterior of your home and add to your home's resale value for a few hundred dollars.
panels with glass windows
insulation
decorative steel panels
nylon garage door track rollers (for quieter operation)
slide lock for security
decorative exterior hardware
thicker weatherstripping (for uneven floor surfaces)
Best Brand?
Joe's recommended hardware is the LiftMaster™ line of overhead openers. LiftMaster is a subsidiary of Chamberlain which also manufactures the Sears Craftsman line of openers. Liftmaster consistently has several models in the top rankings of consumer review sites.
Cost
For a basic chain drive opener, you can expect to pay about $400 for parts and installation. This won't include the door or new tracks. Upgrade to a belt drive unit for quieter operation and you'll pay $450 to $550 installed for the openers with more features.
There are a wide variety of residential garage doors. The most economical doors are steel, roll-up sectional doors. A two-car garage door (usually 16′ x 7″) without windows or insulation will run about $800 installed with new tracks. Opener not included. Single one-car garage doors (8′ x 7′) start at $650 installed.
Check with the Association First
If you live in an HOA (homeowner's association), remember to get approval for any aesthetic changes to your garage door. This will need to be done in advance of the install. Most HOAs will have an architectural control committee for these type of requests.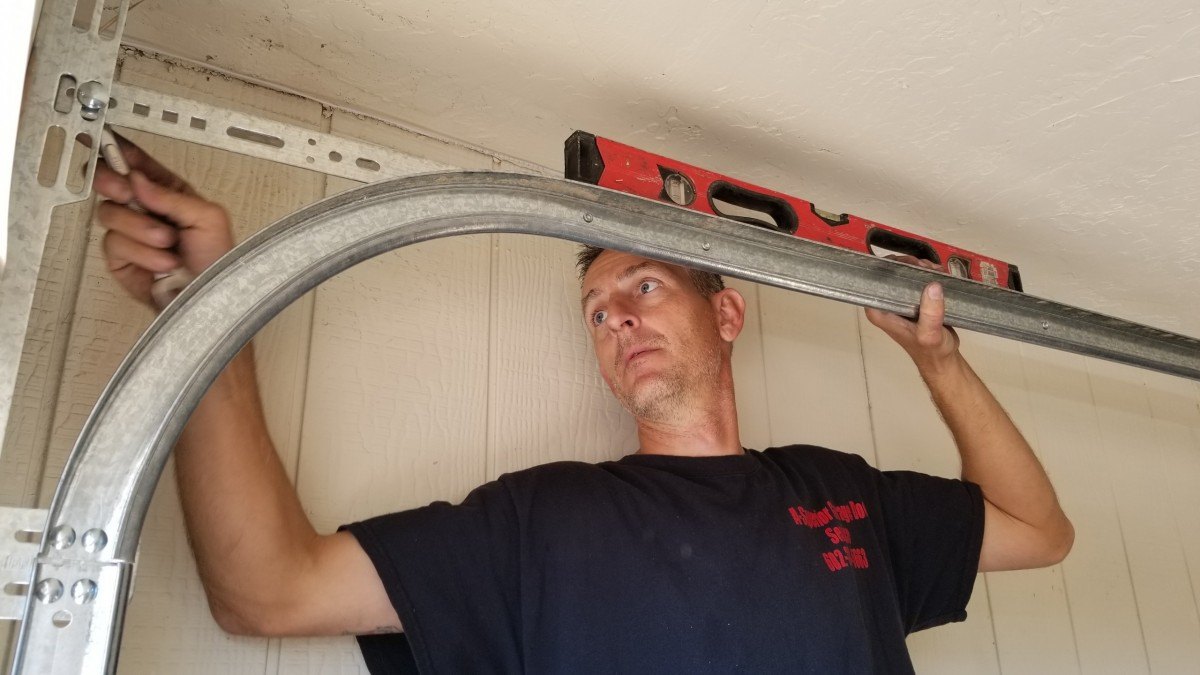 Where to Find Joe
Joe Batters can be reached at 602-390-5663 or ASuperiorGDS@gmail.com. The company website is here. He installs residential and light commercial garage doors and automatic overhead openers. RV garage doors and wall-mounted jackshaft openers are also his specialties. Service is available on most brands including Genie, Craftsman, Marantec, Wayne Dalton, LiftMaster, Chamberlain and Linear.
Many installers like Joe offer a discount if you pair a new opener with a new door on the same install project.
I received no incentive or compensation for this post. Let Joe know that you found my garage door project on The Arizona Report™.
---
My mother, grandmother and older sister all cooked, so it was hard to get into the kitchen. So I have no talent for cooking. I was always out in the garage with my dad. I have a tool belt. I'm a repair chick. – Cheryl Ladd, American actress who portrayed Kris Munroe in ABC's 1970s television series Charlie's Angels