Latest posts by David Meek
(see all)
Asbestos pipe was one of the wonder products of the mid-20th century. Post-war homebuilders used it in multiple applications including underground drainage pipe and vent pipe.
However, beginning in 1973, most forms of asbestos in residential construction were federally designated as hazardous air pollutants. Most materials containing asbestos were phased out of residential home building over the next decade.
It's an important topic here in Valley real estate circles since 46.4% of the metro Phoenix housing stock was built prior to 1980. You might encounter this material in your Phoenix home search.
Asbestos is an excellent insulator. It's lightweight, resists weather and chemicals, can be installed quickly and is a superior fire retardant. It has been mined from the earth in its natural state for centuries, but its use exploded beginning in the 19th century during the Industrial Revolution.
The risk with asbestos-laden products is that when the material is cut or torn, its microscopic fibers become airborne and are inhaled. Asbestos dust fibers cannot be broken down by the lungs. The body's immune system repeatedly attacks the tissue site. Mesothelioma, a cancer of the lungs from asbestos exposure, results in approximately 2,800 cases each year in the United States. Most cases are patients who have had repeated high-level exposure to asbestos fibers over many years in the military, mining or manufacturing.
What is Transite™?
One of the more universal versions of asbestos pipe found in U.S. residential home construction is called Transite™. This product was mixed with Portland cement for rigidity and was manufactured by the Johns-Manville Corporation. The pipes contain approximately 12-50% asbestos fiber to add tensile strength.
Common applications are sanitary sewer drain pipe and plumbing vent piping. Additionally, you might find it, as I did, at the exhaust vent stack on a gas appliance in a home.
The name Transite™ was later adapted generically across a range of asbestos piping products from other manufacturers.
My home inspection mentor, Dr. Dan Haydon, spotted this Transite™ pipe in the photo above. It is nestled in a ceiling of a utility room in a 1950s ranch home near Alhambra High School. The gas water heater has been removed in this particular home, but was previously been vented out through this pipe to the exterior. This painted section of asbestos piping was instantly recognizable due to its dimpled "golf-ball" surface texture.
Transite™ is still being manufactured today, but it no longer contains asbestos.
Where Is Asbestos Found in Older Homes?
Places in pre-1980s homes where homeowners may find asbestos construction materials include:
ductwork insulation
sewer drain pipes
gas appliance vent pipes (water heaters/boilers/furnaces)
plumbing vent pipes
popcorn ceiling texture
vinyl floor tiles
acoustic ceiling tiles
roofing tiles
roofing felt paper
artificial fireplace embers
shake shingle siding
jacket insulation on water heaters and boilers
What Should I Do If I Find Asbestos?
You might first be introduced to asbestos pipes during the home inspection phase of your purchase of a mid-century home. Work with your real estate agent to address and negotiate a solution with the seller before your inspection response window expires. Options include removal, encapsulation or no action.
If Transite™ pipe has not been disturbed, or if it has been properly encapsulated, it may not need to be removed. However, since most asbestos products in American homes are now over 3 decades old, they may be beginning to show signs of deterioration. Look for cracking or surface tearing. Many asbestos products have an interior texture resembling fiberglass.
How Can I Be Sure?
Unsure if the product in your home contains asbestos? Local environmental labs in Phoenix will test a sample for you and return the results within a few days. Follow instructions from the lab on how to take a sample safely.
Ron Barnett, owner of Valley of the Sun Environmental Consulting LLC in Scottsdale, will test up to 5 samples of suspected asbestos for $370. Each additional sample is $15 and lab test results are usually returned within 24 hours. He advises homeowners to have a certified AHERA Asbestos Building Inspector remove any presumed asbestos samples. Ron can be reached at 480-203-0874 or www.valleysec.com.
Below is an advertisement from a Newsweek magazine dated October 27, 1952. It showcases the benefits of asbestos piping to homebuilders and homeowners. The ad notes that Transite™ was approved by Underwriters' Laboratories at that time.
This old advertisement makes me wonder. What will we know about fiberglass insulation in 60 years?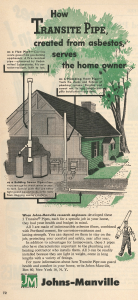 ---
When we go to a restaurant, they don't ask, 'Do you want the asbestos section or the non-asbestos section?' They do ask, 'Do you want smoking or nonsmoking? – U.S. Supreme Court Chief Justice John Roberts