Latest posts by David Meek
(see all)
I noticed a new type of frame fastener on a home under construction this week.
The photo above is a Taylor Morrison home under construction in Peoria in the Northlands Passage development. I am representing a buyer on the purchase of this Albany floor plan here. I've been walking the project about once a week to see the construction progress.
This Simpson Strong-Tie® Cast-in-Place Foundation Anchor Strap is known as mudsill anchor. It is made of zinc-coated galvanized sheet steel and replaces the anchor bolts that hold the framed perimeter wall to the concrete foundation. These straps prevent the wall from shifting under a heavy load or a seismic event (although earthquakes and tremors are extremely rare in central Arizona).
Below is a mudsill anchor diagram and U.S. Patent #8,484,917.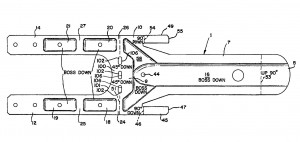 Traditional anchor bolts are still used to secure the 2×4 interior walls of this Peoria home to the concrete floor.
The mudsill anchor is installed at the time of the concrete foundation pour. Depending on the application, the foundation anchors are spaced 3 to 6 feet apart. One end of the bracket (not seen in the photo but visible in this diagram) penetrates the wet concrete foundation at an angle. When the concrete hardens, the framing crew lays down the treated wood sill plate. The two legs of the anchor straps are then bent over the sill plate with a hammer and secured with nails. In some areas, one of the legs of an anchor secures a vertical stud instead of wrapping over the sill plate (visible in the upper left corner of photo).
Visible in the photo just below the sill plate is a layer of  1/4″ white foam. This is a sill seal which reduces air flow under the framed wall and makes the home more energy efficient. It also serves as a barrier to pests and insects entering the home and reduces moisture infiltration.
If you are considering building a home in the greater Phoenix area, I would be pleased to advise you on a lot, builder, and floor plan selection.
---
A good heavy book holds you down. It's an anchor that keeps you from getting up and having another gin and tonic. – Roy Blount Jr., American writer, reporter and humorist