Latest posts by David Meek
(see all)
---
Phoenix, Arizona offers hundreds of miles of hiking trails for all skill levels. There is a different trail here for every day of the year. The 365 Phoenix Hikes project is my endeavor to connect our stunning geography with the great surrounding neighborhoods. 
---
It's an unmistakeable geographic landmark atop Scottsdale. The colossal 90-foot vertical granite crag is visible at the north end of the McDowell Range to commuters far below on the Loop 101. The hike to get there is even more impressive. Two thumbs up for Tom's Thumb Trail.
The Tom's Thumb Trail is accessible from multiple trailheads in the McDowell Sonoran Preserve. This post covers only the approach from the north or "back side" of the McDowell Moutain Range. It is the shortest and most direct of the trails to the summit.
The trailhead is located one mile south of the intersection of Ranch Gate Rd. and N. 128th St. in Scottsdale. Aim your GPS at this address: 23015 N. 128th St, Scottsdale, AZ 85255.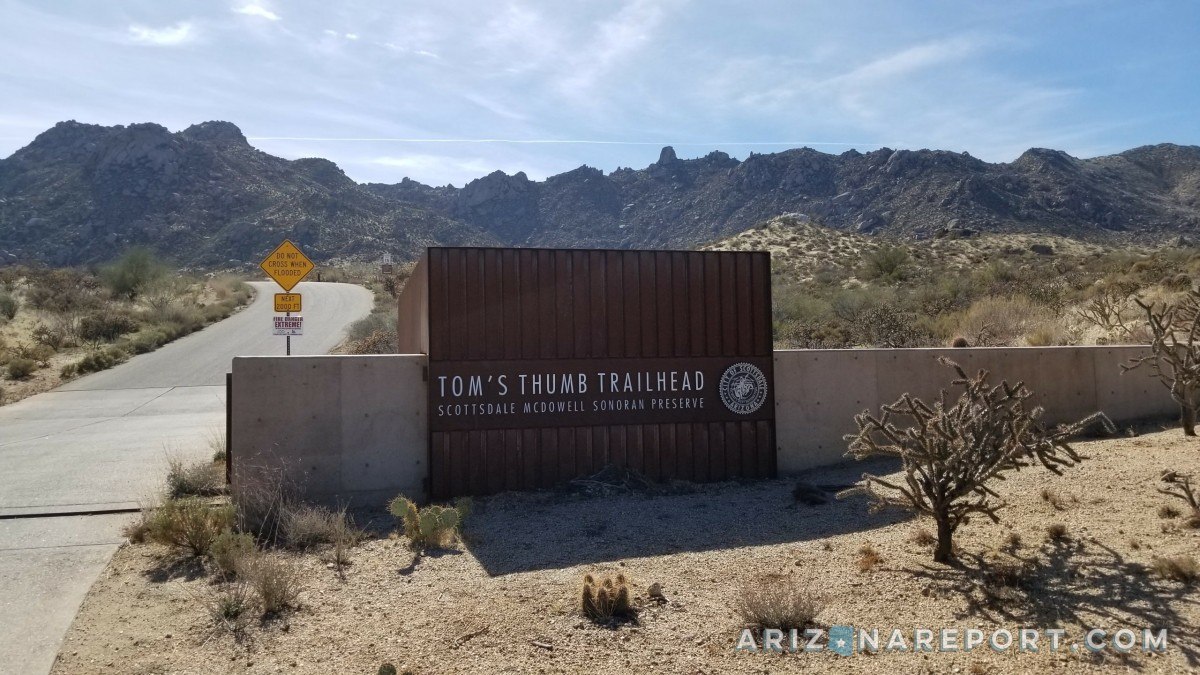 Roundtrip, the hike from the trailhead visitor's center to the summit and back is 5.25 miles. The ascent will take 80-90 minutes at a casual pace. The descent is faster at around 55 minutes. Budget 3 hours overall for this hike and you will have plenty of time to relax at the top. Only rock climbers with technical equipment will be able to scale the spire to the very top. If you are a casual hiker like me, you'll need to settle for the base of the rock (elev. 3,848′) and some Instagram-worthy panoramic vistas.
Check out my other reviews of the best Phoenix hikes here.
The first half-mile of the ascent is an easy grade on a groomed path of crushed granite gravel. The next 1.5-mile segment of the trail becomes steeper and begins switchbacks with 15° to 25° grades. This part is the real leg burner. Pea-sized gravel turns into a packed earth trail with loose scree. However, the path is at least 5 feet wide at most points, trailhead to summit. If you are not in a hurry to get to the top, there are several vantage points like Vultures' Roost within a short 200ft detour of the trail. The last three-quarter mile stretch of the Tom's Thumb Trail is an easier, more relaxed incline to the rocky summit.
Total elevation gain from the trailhead to the base of the granite spire is 1,035 feet. That's equivalent to a 100-story building. Not bad for a morning workout.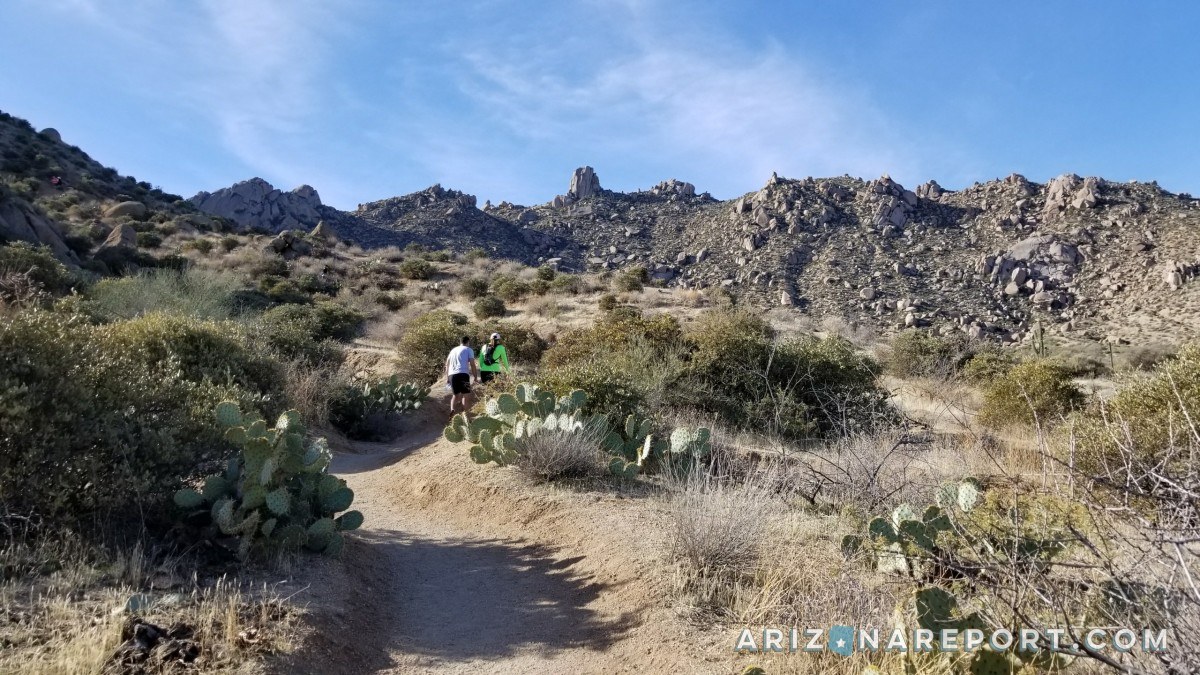 You will be astounded by the size of the boulders formed from ancient cooled magma in this area. Some are as large as custom homes. They were pushed to the surface over 1.4 billion years ago when the Phoenix Valley was the floor of a shallow, primordial sea. Millenia of weathering and rain has worn these behemoths into rounded boulders still so large, it will leave you slack-jawed.
Here a few reasons why Tom's Thumb might be right for your next Scottsdale hike:
well-groomed trail of crushed gravel in many parts
dog-friendly
horse trailer parking with access to equine trails
massive granite boulders line the trail
no steep ledges or drop-offs from the path
plenty of parking on large paved lots
no vertical scrambling over rocks
There are public restrooms located in a shaded ramada at the north trailhead. However, there are no sinks or water fountains. Bring plenty of water for guests and pets. I drank four 16oz. bottles of water on this hike on a January morning.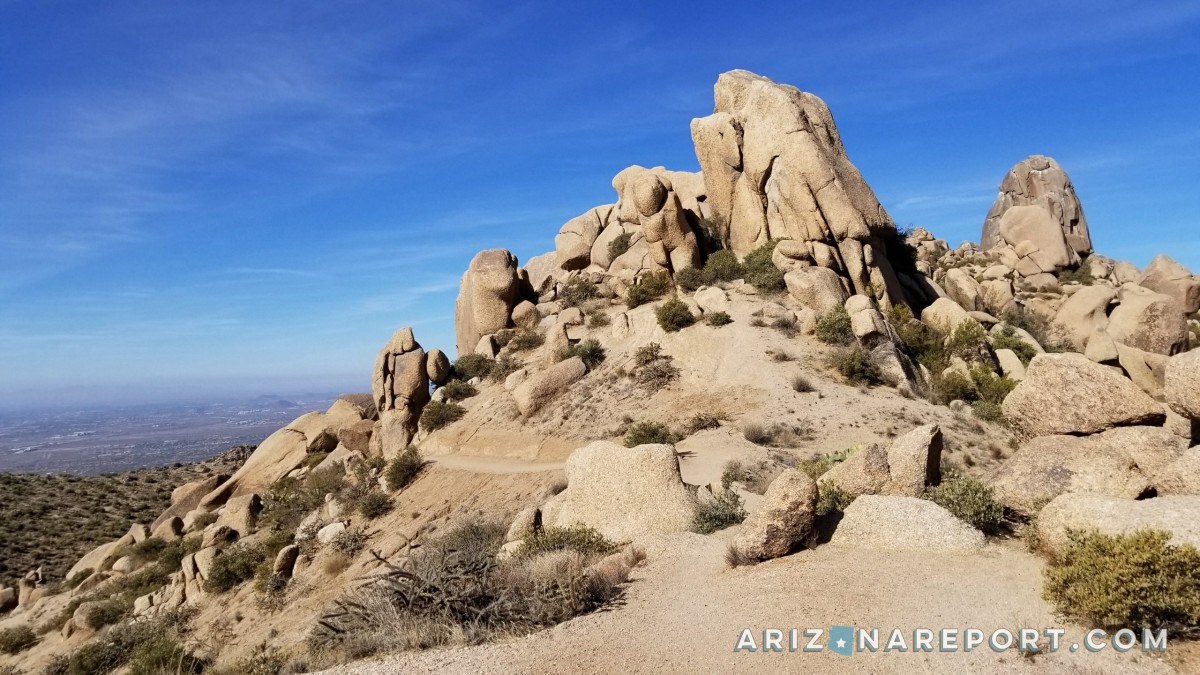 Tom's Thumb Trail is a great hike for your out-of-town visitors who might not be ready for the Squaw Peak or Flatiron hikes. It's a great trail too for older kids with some hiking experience on longer treks. This trail does demand reasonable physical condition of its hikers.
Mobile phone signals are spotty in the area until you reach the peak. It is a relatively remote area of north Scottsdale. Be sure to hike with a partner or let family members know where you are hiking for the day because you may be out of phone range.
When you have completed the hike, reward yourself with a Pinnacle Chicken sandwich topped with Applewood bacon, swiss and avocado at the Pinnacle Grille nearby. Chase it with a tall iced tea. It is my go-to restaurant for recharge meals after these great North Scottsdale hikes. They even have a dog-friendly patio policy. The Pinnacle Grille is located at 10428 E. Jomax Rd, Scottsdale, AZ 85262. 
Have you hiked Tom's Thumb Trail? Leave me a comment below about your experience.
---
The block of granite which was an obstacle in the pathway of the weak, became a stepping-stone in the pathway of the strong. – Thomas Carlyle, 19th-century Scottish philosopher